Courtesy of the Associated Press
Oh, rivalries. We all love them. They bring out the best (and the worst) from everyone. Coaches. Players. Fans. You name it, things get nasty.
Nastiness, however, doesn't win football games. Talent and coaching wins football games. Fans and home-field advantage have minor impacts, but it comes down to players making plays.
In the 109th battle for the Paul Bunyan trophy, Michigan is a 24.5-point favorite against the floundering Spartans (the biggest line in the series since at least 1980). The Wolverines (7-0, 4-0 B1G) are not only the No. 2 team in the country, but Jim Harbaugh's squad looks to be Michigan's best since, gulp, 1997. The Spartans (2-5, 0-4 B1G) have done everything they can to lose games in recent weeks - a completely opposite approach to Mark Dantonio's first nine years.
2016 is the only thing that matters today.
Michigan State has won 7 of 8 in the rivalry. Does. Not. Matter.
Michigan is the winningest program in college football. Does Not. Matter.
The Paul Bunyan trophy has spent 2,548 of the past 2,927 in East Lansing. Does. Not. Matter.
Jim Harbaugh occasionally eats his cereal with Gatorade. Does. Not. Matter.
Mark Dantonio puts more emphasis on this game than any other on MSU's schedule. Does. Not. Matter.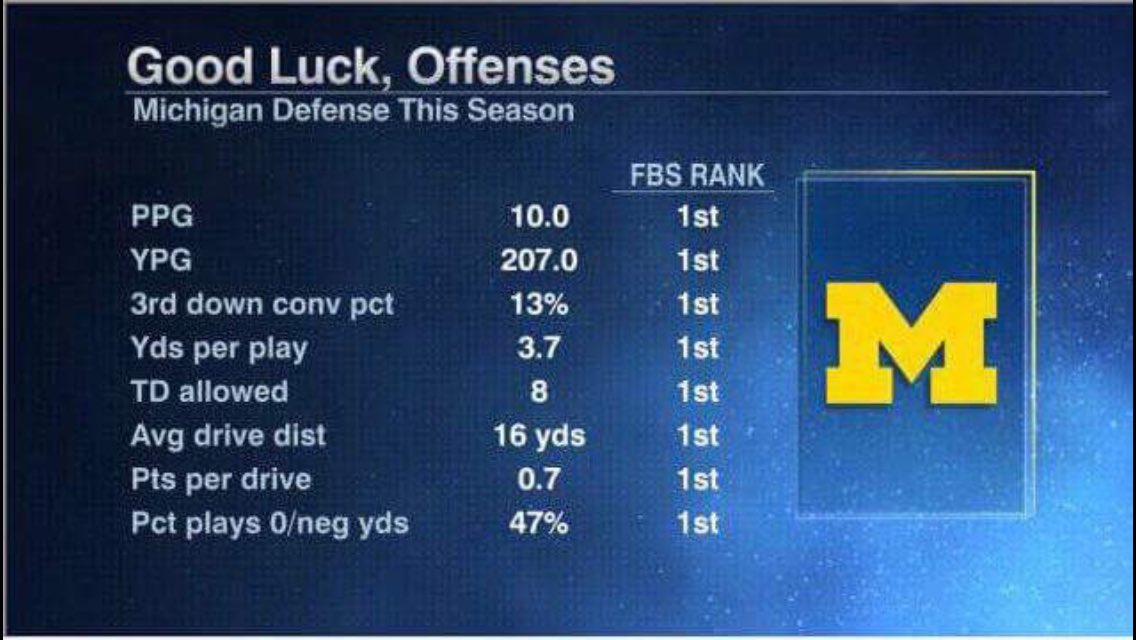 Courtesy of ESPN
What matters is, this season, Michigan has a senior-laden team with 6-9 defensive starters that will be playing in the NFL next season.
What matters is, this season, MSU had major attrition on the defensive line, losing eight DL rotation players from last season.
What matters is, like 2012, MSU is breaking in new quarterbacks and without, as of now, an NFL QB on its roster to lead the offense.
What matters is, despite a soft schedule, Michigan's defense has been historically good (78-0 at Rutgers and the Knights didn't record a first down until the final minutes of the game!).
Michigan is, by far, the better team. Emotion might keep it close initially (a potential one-score game at halftime), but the second half is bound to be all maize and blue, just as it has been all (fill in the color of MSU's last six opponents here) since Sept. 17.
Yes, MSU is at home. This is the same "home" that saw Wisconsin win by 24, BYU win by 17, and Northwestern win by 14. "Home" didn't help MSU win (or in many cases, compete) in those games. It won't help today.
MICHIGAN 45, MSU 9.